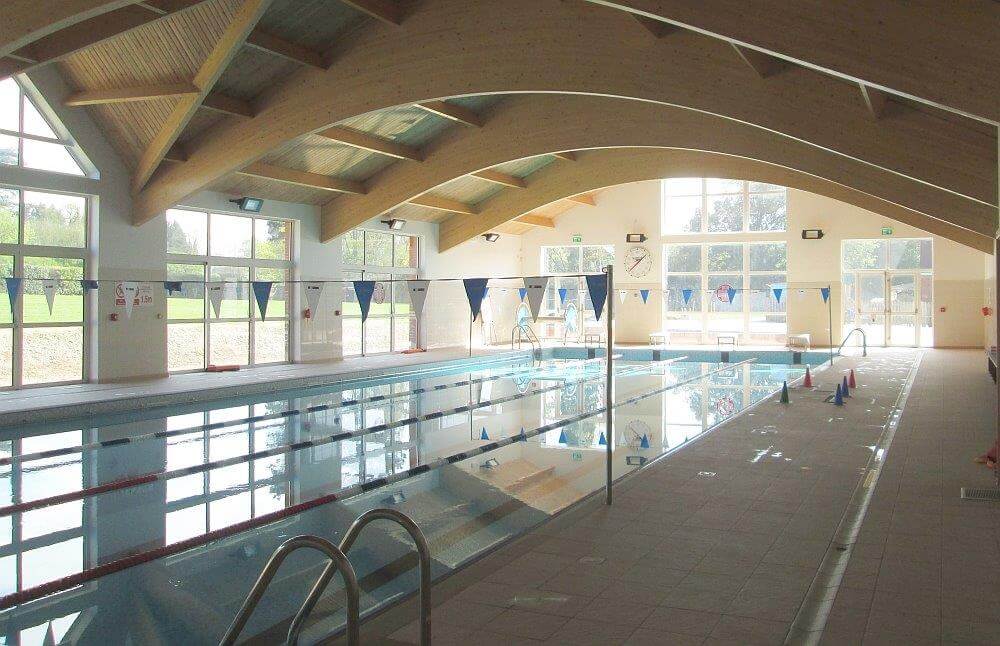 Client: Bishopsgate School
Location: Englefield Green, Surrey
This is a thriving co-educational preparatory school for 330 children aged from 3 to 13. A new year-round facility was needed as the old outdoor pool had been out of use for some considerable time. The new pool was to be built alongside the existing gymnasium. Located near to Windsor Great Park, the site is within Greenbelt and special dispensation had to be achieved during the planning process. Pinelog were approached to use their expertise to design a specific layout to fit the available area and to link the pool building to the main school.
The structure houses a 25m x 8.5m pool with variable depth from 1m to 2m, an area for spectators, changing rooms, office and lobby. The building is constructed using a highly insulated timber frame with glulam laminated trusses. Levels of insulation in excess of Building Regulations minimise energy costs and maintain a comfortable climate within the building. External walls are brick clad to match the existing school buildings and the roof is finished in a Russell Grampian interlocking roof tile.
Got any questions?
If you would like more details of any of the Pinelog lodges please don't hesitate to get in touch with our sales team. Answers to our FAQs may also help.